Affiliate Sales Monitor 1.0.2 - ClickBank Monitoring Utility
Affiliate Sales Monitor 1.0.2 for ClickBank Marketers and Affiliates:
Stay up-to-date on your daily and periodic sales numbers without the hassle of logging in to your ClickBank account over and over. Track as many accounts as you need to and view summary totals with ease. Download for free using the link above or read on for the full feature list.

Version 1.0.2 Released April 24, 2009.
Windows 98, ME, 2000, XP, Vista Compatible

Software Archive Administrators:
Add Affiliate Sales Monitor to your site with our Affiliate Sales Monitor PAD File.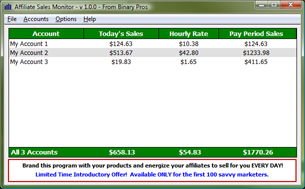 Download Affiliate Sales Monitor 1.0.2
Affiliate Sales Monitor 1.0.2 Features:
• Monitor your hourly, daily, and pay period sales totals for ALL your ClickBank Accounts from one place
• Define a percentage for each account to easily calculate YOUR portion on your shared / joint venture products.
• Plays a sound file (cash register by default) when your sales total increases.
• Send sales notifications to your cell phone, pager, blackberry, or ANY email address.
• Minimizes to the system tray and displays an updated icon when you have new sales.
• Account information is encrypted when stored to keep it safe from prying eyes.
Affiliate Sales Monitor is a FREE download. Click here to download the software at any time.

If you're a ClickBank publisher with lots of affiliates or if you're looking to build your brand - consider getting a custom-branded version of Affiliate Sales Monitor for your products. Click here for more information.