Bulk HopLink Encoder 1.0.0 - HopLinks Protection Utility
Bulk HopLink Encoder 1.0.0 for ClickBank Affiliates:
Don't risk having your HopLinks hijacked by spyware and adware applications. ClickBank has provided us with a new HopLink cloaker tool (HopLink Shield) to protect our HopLinks. Currently generating your cloaked HopLinks is a tedious one-by-one process. That's what led me to write Bulk HopLink Encoder. If you promote as many affiliate products as I do, this will save you a huge amount of time by automatically encoding all your affiliate/vendor links at one time. The program will output your new links to a .CSV file so you can easily work with them using your favorite spreadsheet program. Download for free using the link above or read on for the full feature list.

Version 1.0.0 Released June 06, 2009.
Windows 98, ME, 2000, XP, Vista Compatible

Software Archive Administrators:
Add Bulk HopLink Encoder to your site with our Bulk HopLink Encoder PAD File.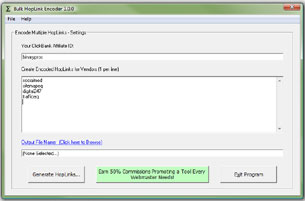 Download Bulk HopLink Encoder 1.0.0
Bulk HopLink Encoder 1.0.0 Features:
• Encode Multiple HopLinks with one easy click
• Export your encoded HopLinks to a CSV file for easy maniuplation or import to databases
Bulk HopLink Encoder is a FREE download. Click here to download the software at any time.